Signer #38: Martha Maria Barker Underhill
Born: August 5, 1806, Westchester County, New York
Died: February 24, 1872, New York City, Age 65
Thanks to Hunter Bozelle, Madison Hare, Seth Mandryk, Scott Merritt, Will Unruh, and Andrew Lipsett for research and editing assistance provided in the production of this profile.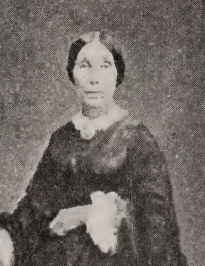 It is said that a picture is worth a thousand words. The above photograph of Signer #38, Martha Underhill, is, at the very least, equal to that.
The art of photography was still in its infancy by the time of the Seneca Falls Convention. Its point of origin is often sourced to only the previous decade when, in August 1839, gentleman-scientist François Arago publicly announced its discovery before a meeting of the Institut de France in Paris. The brainchild of a years-long collaboration of Joseph-Nicéphore Niépce and Louis Daguerre, the earliest version of the process was dubbed Daguerréotypie by the latter, in honor of himself. Niépce had died in 1833, and Daguerre presumed that the invention should bear his name because he had sufficiently innovated it past any of Niépce's previous contributions (Gernsheim 11).
For its obvious appeal, Daguerréotypie would catch on quickly in the United States. American county and city directories from the middle of the 19th century are peppered with advertisements for professional daguerreotypists and ambrotypists (an alternative method later developed). As is often the case with a new technology, these early iterations would remain in the hands of specialists and were not inexpensive. Take, for instance, the extravagant, full-page advertisement for the services of daguerreotypist Matthew Brady, which occupies one of the opening pages of John Doggett's New York City Directory for 1848-9. It reassures the curious that "ADMISSION FREE" to Brady's gallery, while firmly maintaining in a larger, bolder font: "PRICES FOR PICTURES."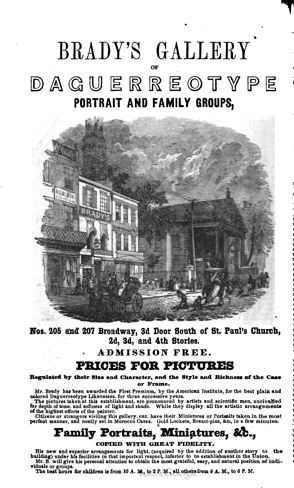 Brady could evidently make a decent living from daguerreotyping, nine short years after its existence was first made known to the world. The caption below the illustration touts Brady's painterly eye, his faculty and dexterity with the new medium, and the realism of the final image's "great fidelity."
Because of its initial exclusivity and cost, early photography was a luxury, reserved for the well-to-do and for notable public figures. Youthful antebellum portraits of the lesser-known signers of the Declaration of Sentiments are, consequently, relatively scarce. However, as the years wore on and Daguerre's contraption became more prevalent and affordable—as new technologies often do—more signers could have their likenesses preserved in this manner. For this reason, images of the signers of the Declaration of Sentiments from later in life are more likely to exist and survive to the present day.
Because of this, we should avoid the unintended pitfall of visualizing participants at the Seneca Falls Convention as their elder selves. It is a mistake to imagine the signers in 1848 as sage, old pillars of their community, tempered by age and experience. They should be seen instead as recent parents, primarily in their 30s and 40s and only approaching middle age, who wanted a better world for their young children. Still, any faithful representation of a signer, at any age, is far better than having nothing at all.
That being said, the archival search for Signer #38, Martha Underhill, turned up forgotten pictures of the signer herself, her spouse, and three of her children. A first for this project, this recovery is thanks to the exhaustive genealogical work of her relatives. Martha Underhill appears in the extensive, multivolume Underhill Genealogy (1932). Edited by Josephine Frost, The Underhill Genealogy was created with the support of the Underhill Society of America, which survives to this day and is dedicated to preserving the family history of the descendants of Captain John Underhill (1597-1672). John Underhill is remembered as a leader of the Massachusetts Bay Colony militia, who marshaled troops against indigenous forces in the so-called Pequot War of 1636-8. Underhill published his personal account of the conflict, Nevves From America, in 1638. Elsewhere, Updike Underhill, the fictional narrator of Royall Tyler's 1789 novel, The Algerine Captive, also traces his lineage to John Underhill. Tyler's narrator satirically recalls his "gallant Ancestor" running afoul of the powers-that-be in Britain before garnering the displeasure of the New England Puritans for his lustful, wandering eye (15).
Signer #38 married into the Underhill family, yet the details of her life preserved in The Underhill Genealogy are invaluable. She was born Martha Maria Barker on August 5, 1806, in Westchester County, New York, the second daughter of John and Mary Morgan Barker. Martha married William Underhill Jr. on March 4, 1829, on the same day "that General Andrew Jackson took the oath of office of the President of the United States of America" (Frost 279). William, born in 1804, was the son of William and Sarah Coles Underhill (Frost 562).
A June 1908 interview of Martha's then-elderly daughter Eliza, a resident "at the Park Avenue Hotel," revealed the following information about the Underhills' family life in New York: "'Father was a druggist at 183 Water Street, New York City. He was in the drug business for forty-five years. He was a Universalist and a regular Quaker in his tastes. Very plain. He married Martha Barker. They were married at 38 North Moore Street, New York City…Mother was born in August, 1806. She might have been born in Westchester County, N.Y. They lived in North Moore Street when they were grown up'" (quoted in Frost 564).
The 1843 Doggett's Directory for New York City confirms Eliza's account, listing William Underhill as a pharmacist at "A. and W. Underhill" alongside one John Underhill (a relation, most likely) at 183 Water Street (343, Frost 563).

An 1850 directory for the city again situates William's place of business at 183 Water Street and the Underhills' residence at 95 Henry (Doggett 509).

A lifelong New Yorker, Martha Underhill was one of a handful of out-of-towners, who were more than 100 miles from home, at the Seneca Falls Convention. This is a feature she shares with Lucretia and James Mott (Signers #1 and #81), visiting from Philadelphia, as well as fellow New Yorker, Harriet Cady Eaton (#2). Martha, the Motts, and Eaton are in a virtual tie for the greatest distance traveled to the Convention. Like her fellow non-local Convention goers, Martha Underhill was visiting family members in the vicinity of Seneca Falls. William Underhill's brother Benjamin Mott Underhill married Eliza Hunt, the inferred sister of Signer #69, Richard Hunt (Frost 558). Moreover, Martha's nephew Edward Fitch Underhill was a resident of nearby Waterloo, and he would become signer #92.
Signer #38's birth surname might also link her to the three Barkers listed in the Declaration roll: Eunice (#40), Caroline (#63) and William (#77). Late July appears to have been peak vacation season—it still is—and the dog days of summer clearly offered a choice opportunity to pay social calls upon extended family. Yet, Martha Underhill's presence in the village for the Convention may have been more coincidental and serendipitous than the Motts' or Harriet Eaton's. I could find no trace of any evidence suggesting that her career as a suffragist extended beyond the Seneca Falls Convention. Signing the Declaration may have been a one-off in Signer #38's brief stint as an activist.
Like many signers, Martha was a recent parent in 1848. In the 1850 census for New York, William is 46 and works as a druggist. Martha is 40 with no enumerated occupation. They live with their six children: Mary, born 1832; Eliza Eugenia, born 1835; Caroline, born 1837; Ellen, born 1841; William, born 1843; and Amelia or Emily, born 1844 (Frost 562-3).

For whatever reason, I could not recover an entry for the Underhills in the 1860 census. In 1859, Trow's Directory places their residence at 93 Lexington Avenue (810). By 1870, Martha and William, now a retired merchant, are both in their 60s. They reside with three adult children: Eliza, now 35; Ellen, 30; and William, 25. William has taken up his father's trade as a pharmacist.

The Underhill Genealogy contains a headshot of William as well as a full-length portrait of Martha, who appears in a flowing Victorian gown. Taken at some point in their middle age, the pictures are undated (554).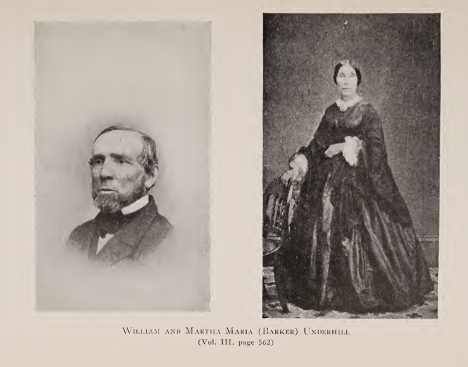 It also includes portraits of daughters Mary, Eliza, and Ellen, as adults (567, 872).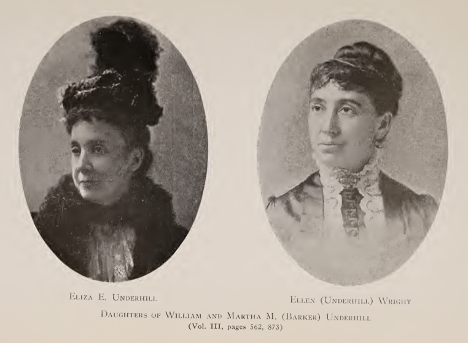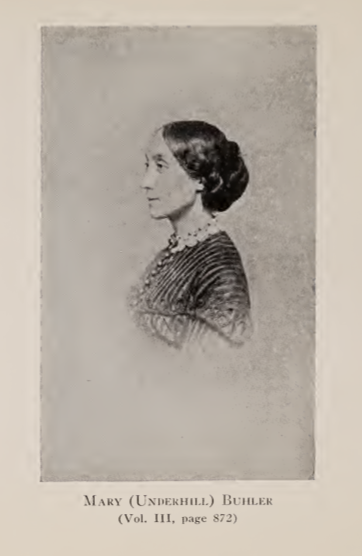 Martha's husband, William Underhill, died in Chicago on November 11, 1871 (Frost 562). His body was returned to New York for interment. Daughter Mary wed William Buhler, a furniture retailer. They had three children, Caroline, William, and Evelyn, and remained in the New York area ("William Buhler"). Daughter Eliza never married and died of pneumonia at the House of Mercy in Pittsfield, Massachusetts, in June 1908 (Frost 562). In the 1900 census, Eliza lives as a boarder in Manhattan. Daughter Caroline married Edward Light in December 1868. They had 5 children, Alice, Ellen, Blanche, Edna, and Edward, and relocated to Massachusetts; Denver; and then La Mesa and "Lajola," California (Frost 564, 873). She lives in San Diego County in the 1910 census, passing away in 1912 (NSDAR 43). Daughter Ellen married Thomas Wright in Morristown, New Jersey, in 1886. Some time after his death in 1905, she relocated to La Mesa, California, perhaps to reside with her sister Caroline (Frost 873). She lived until 1931. Daughter Emily married De Witt C. Light in 1868, the "brother of her sister's [Caroline's] husband" and had four children: Gertrude, William, Mabel, and Raymond (Frost 873-4). She passed away in 1923. Son William abandoned his career as a druggist and worked as an artist. He died in New York City in 1890 (Frost 562-4). Each of Martha Underhill's children survived into adulthood, a remarkable occurrence for its day and time.
Martha Underhill, Signer #38, died on February 24, 1872, and lies in rest at the Cypress Hills Cemetery in Brooklyn on a family plot with her spouse, William, and four children: Eliza, Ellen, William, and Emily ("Martha Underhill"). Thanks to Andrew Lipsett for photographing the Underhill family plot and allowing me to use his pictures here: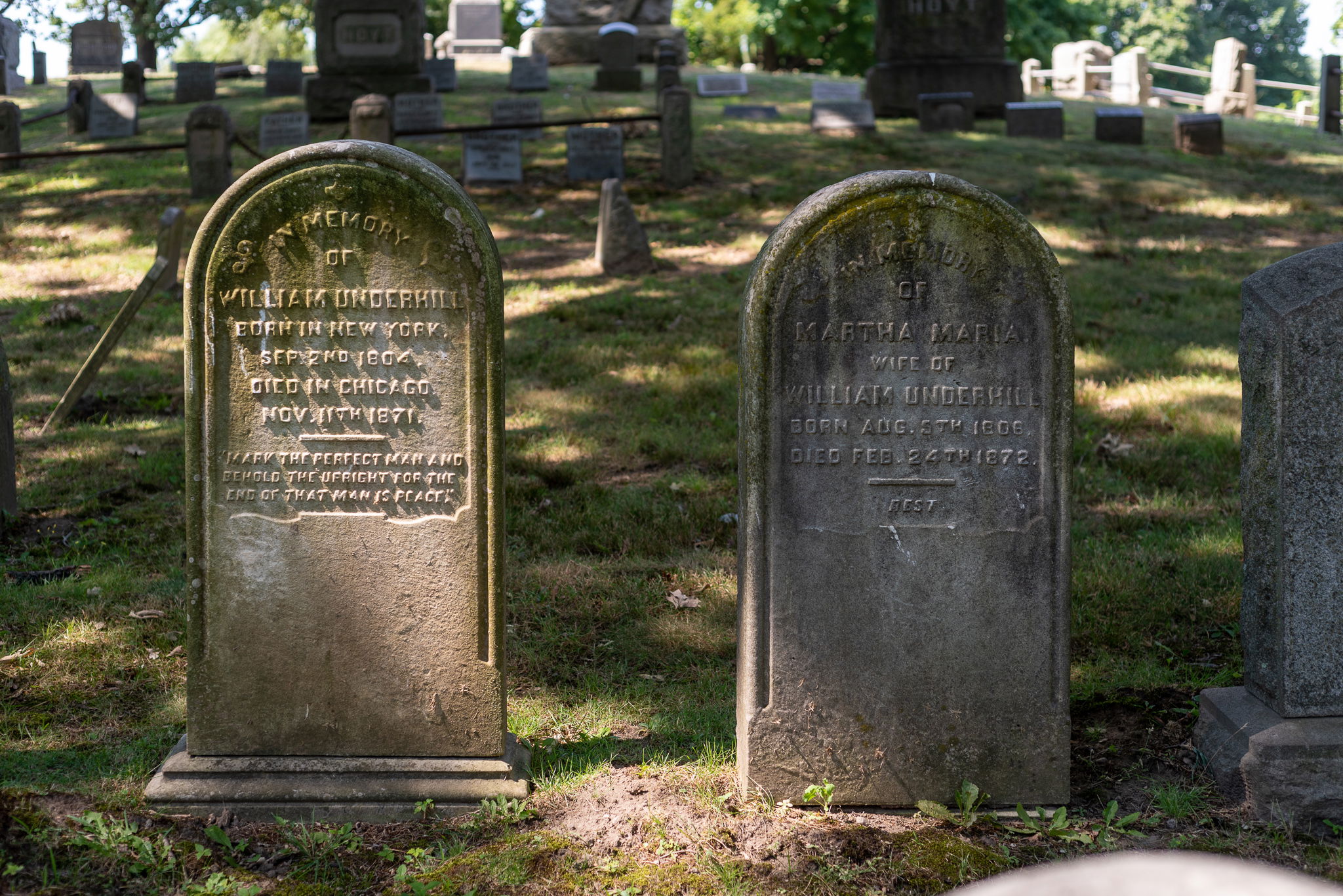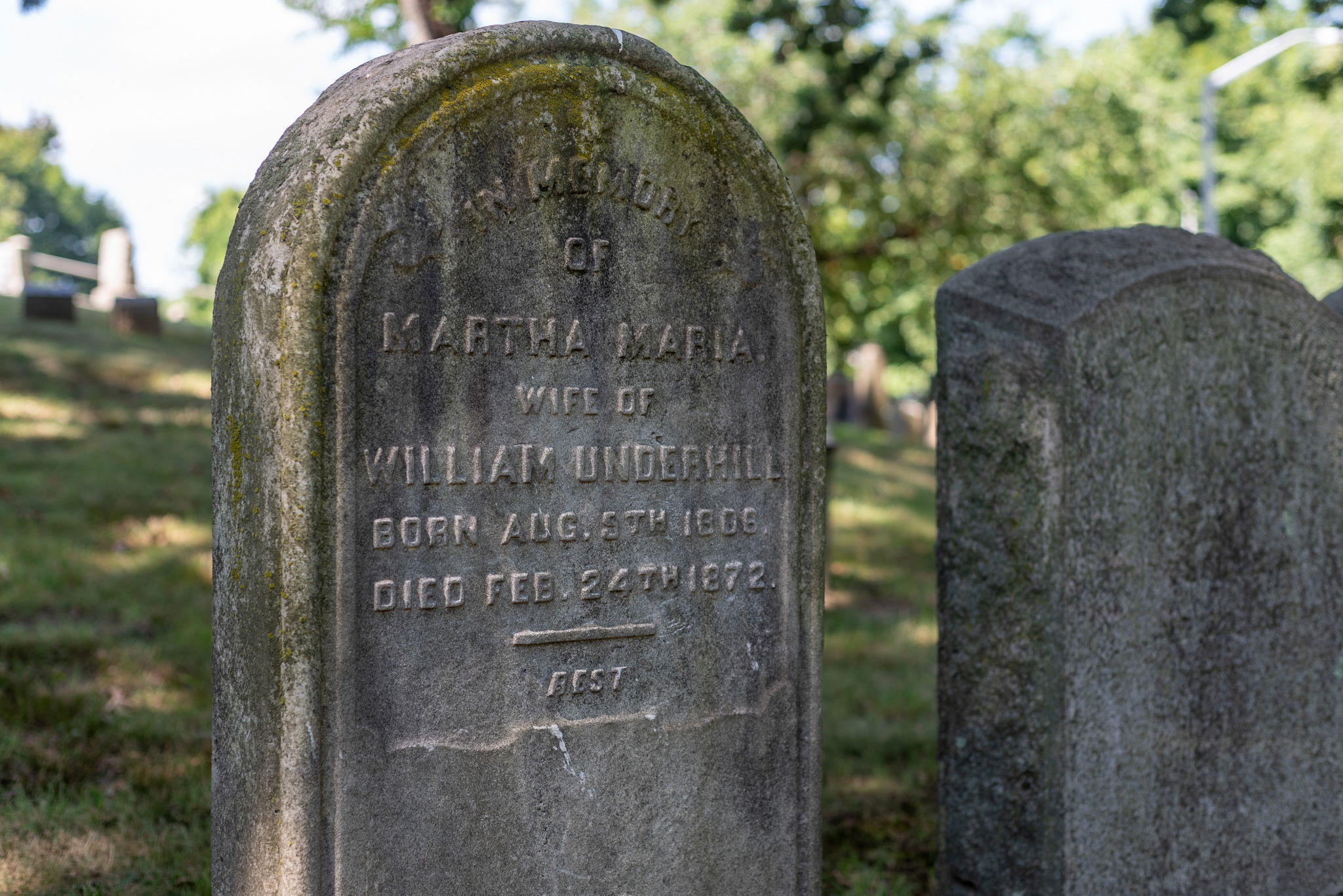 The vast Underhill Genealogy goes so far as to include photos of Signer #38's mother- and father-in-law, Sarah Coles and William Underhill, born in 1774 and 1780, respectively (274). The Underhill Society's exhaustive work documenting their family story in America produced the lucky, unplanned byproduct of capturing much about the life of Signer #38. As detailed as The Underhill Genealogy may be, it makes not a single mention of Martha's involvement in the Seneca Falls Convention. Nonetheless, something priceless—worth a thousand words, at the very least—is gained by being able to lay eyes upon her long-lost photograph.
Works Cited
Doggett, John. New York City Directory for 1843-4. New York.
---. New York City Directory for 1848-9. New York.
---. New York City Directory for 1850-1. New York. "Edward Fitch Underhill." Women's Rights National Historical Park. Accessed 23 Apr. 2022. https://www.nps.gov/wori/learn/historyculture/edward-fitch-underhill.htm.
"Edward Light Household." Federal Census, 1910. Mission Township, California. Ancestry.com, Accessed 21 Apr. 2022.
"Eliza Underhill." Federal Census, 1900. New York, New York. Ancestry.com, Accessed 21 Apr. 2022.
"Eliza Underhill-Death Certificate." Commonwealth of Massachusetts, 1908.
Frost, Josephine. Underhill Genealogy: Descendants of Captain John Underhill. Underhill Society of America, 1932.
Gernsheim, Helmut. A Concise History of Photography. Courier Corporation, 1986.
"Martha Maria Barker Underhill." Findagrave.com. Accessed 23 Apr. 2022. https://www.findagrave.com/memorial/96739328/martha-maria-underhill National
Society Daughters of the American Revolution. Lineage Book, Volume 108. NSDAR, 1914.
Trow, J.F. Trow's New York City Directory. Trow, 1859.
Tyler, Royall. The Algerine Captive: Or, The Life and Adventures of Doctor Updike Underhill. Random House Publishing Group, 2007.
Underhill, John. Nevves from America. Underhill Society of America, 1902.
"William Buhler Household." New York State Census, 1875. Cornwall, New York. Ancestry.com, Accessed 21 Apr. 2022.
"William Buhler Household." Federal Census, 1890. New York, New York. Ancestry.com, Accessed 21 Apr. 2022.
"William Underhill Household." Federal Census, 1850. New York, New York. Ancestry.com, Accessed 21 Apr. 2022.
"William Underhill Household." Federal Census, 1870. New York, New York. Ancestry.com, Accessed 21 Apr. 2022.