Signer #37: Charlotte Lundy Woodward Peirce
Born: January 14, 1830, Auburn, Cayuga County
Died: March 15, 1924, Philadelphia, Pennsylvania, Age 94
Occupations: "Keeping House," Philanthropist, Activist
Local Residence: Auburn, Cayuga County

"The Eternal Question," an article that appears in Collier's National Weekly on October 30, 1920, wonders at the fateful event scheduled for the following Tuesday. November 2 was to be the first general election in which American women could vote nationwide. The 19th Amendment had been ratified the previous summer, and now the "eternal question," of how women would vote if they could, was about to be answered definitively in only three short days.
More than 72 years and 3 months had elapsed between the close of the Seneca Falls Convention and November 2, 1920—an interval of some 26,402 days. Of the 100 individuals who lent their signatures to the Declaration of Sentiments, it is said that only a single signer remained alive to bear witness to the day. "For the women of 1848," author Rheta Childe Dorr remarks, "the hourglass has run out. The greatest of them are only memories. All but one" (5). An interview with the sole survivor, Charlotte Woodward Peirce, then 90 years old, follows in the piece, along with the portrait below. In spite of her advanced age, Woodward played her part in the final political push to win franchise nationally. Sought out by suffragists to recall her Seneca Falls experiences more than seven decades earlier, she gave a handful of interviews that provide invaluable historical details about the Convention.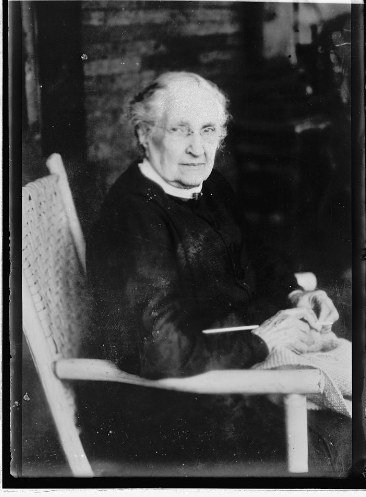 It should be noted, however, that Charlotte Woodward enjoyed the distinction of being the last surviving signer many years before it was actually true. In 1907, Western Woman, a pro-suffrage periodical, asserts that she is "the only person now living who attended that meeting in 1848"—an error that was repeated endlessly thereafter in newspapers across the country (12). At the time, signers Sarah Hallowell (Signer #21), Mary Hallowell (#29), Mary Conklin (#32), Susan Quinn (#33), and Rhoda Palmer (#48) remained alive (at the very least). Given this error and because no one ever kept tabs on the 100 signers, there exists the marginal possibility that others could still have been alive by November 1920.
But to remember Signer #37 for her longevity is somewhat unfair. During her 26,402 day wait, Charlotte Woodward was unwavering in her dedication to the cause of suffrage. It was a commitment she maintained amidst the disagreement that fractured the movement in the 1860s, amidst the eventual reconciliation between camps, and amidst the transition to "militant" suffragette tactics after 1910. A member of Philadelphia's well-heeled philanthropic elite, she was involved in a dizzying number of charitable enterprises during her lifetime, and her work on behalf of the Woman's Medical College of Pennsylvania (WMCP) is especially noteworthy. After 1848, she did not sit idly by, hoping for the world to change.
Charlotte Lundy Woodward was born on January 14, 1830, the daughter of Elizabeth Klein and William Woodward, both natives of New York ("Charlotte Lundey Peirce"). Biographies of Charlotte's spouse, published in Who's Who in America and Men of the Century during her lifetime, identify her birthplace as Auburn, Cayuga County (1467, 284). I had little luck locating traces of her parents' lives, but I did chance upon her father's 1857 probate letter, filed in Auburn. At the time of her father's death, Charlotte is named as next of kin along with three far-flung, living siblings: Alida, Classon, and Chester, who reside, respectively, in Washington, D.C.; San Francisco; and Chatfield, Minnesota.
As is the case for many signers, the first record I could locate regarding Charlotte's presence in the Finger Lakes Region is the Declaration of Sentiments itself. The 1848 John Dick report on the Convention lists her surname erroneously as "Woodard," a typo that is commonly reserved for Declaration signers who were less prominent and local at the time of the Convention (10).
Dorr's 1920 interview presents Charlotte Woodward's account of the Convention through direct quotation, but it is still a reconstruction of an oral history that was supplied in piecemeal. A suffragist and muckraker, Dorr admits that it was impossible to reproduce Charlotte's narrative verbatim because "the story told me by Charlotte Woodward…came little by little as she remembered it, and as she had strength to tell it." Aged 18 years and 6 months at the time of the Convention, Charlotte recalls: "I was only a young country girl, and I lived at home, as all girls did then, in a state of ignorance and of serfdom which no girl of this generation can even faintly imagine. My home was in a tiny county hamlet not a dozen miles from Seneca Falls, and my days were full of labor." She remembers the back-breaking domestic work expected from women during that era, "so difficult that the strongest laborer of to-day would shrink from it." While many men worked hard to support their families, others "spent their days loafing around the country stores, watching the few trains and canal boats that passed by, talking politics, religion, and idle gossip, while at home their women earned their bread." The frustration that arose from the unequal distribution of labor, Charlotte speculates, was felt everywhere: "I do not believe there was any community anywhere in which the souls of some women were not beating their wings in rebellion…I can say that every fiber of my being rebelled, although silently, all the hours I sat and sewed gloves for a miserable pittance." Assembling gloves for nearby factories was a source of income desperately needed to support her family, and it was work that had to be done clandestinely. "We did not work in the factories. That would have been impossible, disgraceful. We worked secretly, in the seclusion of our bedchambers, because all society was built on the theory that men, not women, earned money, and that man alone supported the family" (6).
Charlotte recalls the advertisement for the Convention that ran in The Semi-Weekly Seneca County Courier on July 14, 1848. A few days later, Charlotte and a half dozen of her friends and family dropped what they were doing and traveled by wagon to Seneca Falls. Their trip began as a solitary journey but evolved into something of a groundswell. "Before we had gone many miles we came on other wagonloads of women, bound in the same direction. As we reached different crossroads we saw wagons coming from every part of the county, and long before we reached Seneca Falls we were a procession." According to Charlotte, the assemblage who convened at the Wesleyan Chapel had to break into the building, which had been accidentally locked. When it came time for speeches, Lucretia Mott (#1) was the only woman present who had any experience with public oratory, having spoken at Quaker meetings. As for Elizabeth Cady Stanton (#4), Charlotte remembers her "young voice, trembling with emotion, yet clear and strong" in her recitation of the Declaration of Sentiments. The topic of reform in the areas of "education, trade, commerce, the professions, property rights, free speech, guardianship of children" was met with a broad consensus among attendees (23). Yet, Charlotte claims that only Stanton and Frederick Douglass (#73) supported the provision of the Declaration that demanded voting rights for women. Charlotte signed her name to the document but speculates that many hesitated because of the stigma it could attract. "Many others were afraid. Perhaps they thought they were being called upon to sign something like a death warrant, and so they were—a death warrant of the past." Dorr reports that the Convention was a formative experience for Signer #37. Afterward, Charlotte abandoned stitching gloves and sought a career at the newspaper established by Amelia Bloomer in Seneca Falls, The Lily. Working for Bloomer, Charlotte "learned to be a printer, a compositor" (23).
The details supplied in a 1916 article in The Philadelphia Evening Public Ledger, entitled "Panties Excite Little Comment Now," largely square with the account produced by Dorr. An interview with Charlotte reveals that, prior to her stint at The Lily, she sought work in area newsrooms but was met with resistance. "The first composing room that she selected threatened to 'walk out' when she walked in. The men thought it beneath their dignity to work with a woman." After this initial setback, Charlotte joined The Lily, where she trained to become an "expert type-setter." Of course, Amelia Bloomer, a Seneca Falls resident who attended the Convention but did not sign the Declaration, used The Lily as a platform to advocate for women's dress reform and, in doing so, lent her name to the loose-fitting, comfortable women's "bloomer."
A third account of Charlotte's Convention experiences is given via paraphrase by Pennsylvania suffragist and friend Caroline Katzenstein in the memoir Lifting the Curtain (1955). Katzenstein claims that Charlotte, one of 14 children, was compelled by economic necessity to leave home at age 15 and earn her living as a schoolmarm. This took her to nearby Waterloo, where she lived in a "boarding house." Upon her return from the Convention, Charlotte rode home in the same wagon as Frederick Douglass. The racial impropriety of such an act prompted a male acquaintance to complain to Charlotte, "'Young ladies who do such things cannot expect attention from gentlemen,'" to which Charlotte replied, "'Gentlemen had better wait until their attention is desired'" (20).
The main point of discrepancy between Dorr's and Katzenstein's versions of Charlotte's narrative falls upon the question of where she lived and worked at the time of the Convention, possibly as a teacher in Waterloo or as a glove-maker in Auburn. In the Dorr text, Charlotte attests that she traveled from her home "not a dozen miles from Seneca Falls," which suggests that it was close to a dozen miles (23). This distance suggests, to me, a location in Cayuga County on the western outskirts of Auburn. The journey from Seneca Falls to Waterloo, of about three-and-a-half miles, would not have been a very formidable, time-consuming wagon ride. Because Katzenstein's version was published more than 30 years after Charlotte Woodward's death, I am inclined to favor the contemporary account by Dorr, a professional journalist. Both accounts may be factual, documenting different periods of Charlotte Woodward's teenage years. Dorr, a New Yorker born in Omaha, Nebraska, and Katzenstein, a Philadelphian born in Warrenton, North Carolina, might both be operating at the disadvantage of being unfamiliar with the geographical region that Woodward recalled to them. That Woodward was recounting these details, possibly fuzzy, nearly three-quarters of a century after the fact might have prompted her to produce different renditions for each auditor.
In either case, Charlotte's tenure at The Lily evidently did not last long. In a record first uncovered by Judith Wellman, Charlotte, now 20, surfaces in DeWitt, Onondaga County:

She resides in the household of Hannah and Moses Chapman, a well-to-do farming couple in their 50s. A box designating that Charlotte will be "Married within the year" has been ticked off, but evidence of such a marriage is not corroborated elsewhere. Four other teenagers and young adults, who do not share the Chapman surname, also appear in the household, possibly taken on as laborers or boarders.
In 1857—the same year as her father's death—Charlotte Woodward married Cyrus Newlin Peirce of Philadelphia. "Newlin," as Charlotte called him, was born into a Quaker household in March 1829. In 1850, he attended New York Central College located in Cortland, a locale just 35 miles distant from Charlotte's 1850 residence in DeWitt. Newlin was forced to return to Philadelphia after being afflicted with typhoid fever in Cortland. Back home, he studied dentistry by taking up an apprenticeship and enrolling at the Pennsylvania Dental College. Upon his graduation in 1854, he began his own dental practice, but quickly transitioned into the field of education. By 1858, Newlin was elected professor at Penn College of Dental Surgery, becoming a dean in 1860 (Morris 284). In 1865, he resigned this position and was appointed lecturer of "dental physiology and pathology"—subjects which then fell within the practice of general medicine—at the Woman's Medical College of Pennsylvania. He was also called upon to take on administrative duties at WMCP, where he worked as secretary to the college's board of corporators for more than four decades. Steven Peitzman observes of Newlin that "for a remarkable span of over forty years" he "toiled faithfully as a WMC corporator" (93). Newlin went on to serve as chief of faculty at the Pennsylvania College of Dental Surgery and sat on the board of City Trust, Safe Deposit and Surety Company ("Caught," "City Trust"). By 1908, Who's Who in America attests that Newlin "Practiced dentistry 54 yrs. Was prof. dentistry 45 yrs. 30 yrs. Dean Pa. Coll. Dental Surgery: sec. Woman's Med. Coll. of Pa. 40 yrs.: extensive contbr. to dental literature" (Leonard 1492).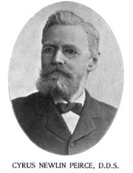 Charlotte and Newlin appear in the 1860 census for Philadelphia's 13th Ward. They have a one-year-old, Gertrude, born May 16, 1859. Two adults and an Irish-born teenager reside with them, serving in the capacity of domestics.


During the 1860s, Charlotte began to pursue the philanthropic activities that would come to occupy much of her adult life. She receives mention in "A Festival," an 1867 article in Philadelphia's The Press, which insists upon the urgency of securing elective, educational, and economic safeguards for African-Americans in the postbellum. The titular festival is a fundraiser in support of The Anti-Slavery Standard. Donations for the event, such as "suitable articles of provisions will be received by Charlotte L. Peirce, 501 North Seventh street." An 1868 report on the annual board meeting of Philadelphia's Home for Colored Children cites Charlotte as one of its newly elected managers ("City Bulletin"). Her evident commitment to the cause of racial aid and justice in the aftermath of the Civil War signals her future allegiances in regard to the issue that would partition the Suffrage Movement by decade's end.
By the close of the 1860s, Charlotte Woodward would ally with the faction of the Suffrage Movement that formed the American Woman Suffrage Association (AWSA), led by the likes of Douglass, Julia Ward Howe, Antoinette Brown Blackwell, and Lucy Stone. The vanguard of the AWSA recognized the necessity of securing voting rights for Black men in the near term, and they treated women's franchise as a long-term, secondary goal. The National Woman Suffrage Association (NWSA), headed by Stanton, Anthony, and Lucretia Mott, conversely, prioritized the aim of winning franchise for women immediately. In December 1869, The Evening Telegraph of Philadelphia reports that Charlotte has been elected to the executive committee of a "State society auxiliary to the American Woman Suffrage Association" ("News Summary").
Her political affiliations in the midst of the schism were almost preordained, but she could clearly see that the break between factions was not absolute and not eternal. An 1871 letter composed by Charlotte Woodward and addressed to Lucretia Mott touts an overarching solidarity that should surmount temporary ideological differences. Preserved by the In Her Own Right digital archive, Charlotte writes to Mott, a NWSA loyalist, as a fellow Convention attendee. Charlotte gently broaches the topic of dissent and division, regarding both as impermanent, "I am identified with the other Society, but have no feeling which would mar my enjoyment of this meeting. Our aim is the same, what matter if we do not all choose to the same means to accomplish it?" There is no trace of if or how Mott replied to Charlotte's letter. Mott did recycle the paper, flipping it upside-down and drafting a note intended for her daughter, Martha Mott Lord, in the remaining space.

In February 1870, the Peirces lost a young child, named Walter. Philadelphia's The Press ran an obituary for the four-year-old, claimed by scarlet fever.

In the census taken the following summer, the couple live in Bristol, Bucks County. Newlin, 41, is listed as a "Dentist," and the couple has amassed a net worth of $21,000 dollars. Gertrude is 10 and a son, Arthur, is 7. Charlotte, 39, is reported as "Keeping House," a gross mischaracterization of her civic involvement at the time. Its use in this context reveals how thoroughly abused the term "keeping house" was in contemporary censuses.

By 1869, Charlotte had become treasurer of the Woman's Hospital of Pennsylvania (WHP), the service wing of the Woman's Medical College of Pennsylvania. She held the position at least until 1879 and appears to have faithfully discharged the responsibilities of her office (WMCP, Philadelphia Society 116). An 1876 article about WHP's annual meeting in The Press leads with Charlotte's update as officer: "The treasurer, Charlotte L. Peirce, reported that the receipts for the year amounted to $26,036.76. Of this sum $24,134.98 was expended, leaving a balance of $1,901.78 on hand" ("Woman's Hospital"). Her name regularly appears in the masthead of the college's annual report during this period:

Charlotte's and Newlin's leadership roles at WMCP/WHP add to a growing number of Declaration signers who had connections to the same institution. Lucretia Mott co-founded the college, and her spouse James Mott (#81) served as a trustee. Rebecca M.C. Capron, the spouse of E.W. Capron (#97), matriculated to WMCP in the 1850s. As explored in the profile of the best candidate for Dorothy Mathews (#39), signers manifested a keen political interest in broadening women's inclusion in the practice of medicine through their engagements with WMCP. More immediately, WHP provided a tangible service to the Philadelphia community, offering low-cost healthcare to thousands of indigent patients, especially single mothers and widows.
Applying her accounting skills elsewhere, Charlotte Woodward co-founded the New Century Club in 1876 and was elected its first treasurer ("Mrs. Charlotte L. Peirce," History 469). New Century was one of the first women's clubs organized in the United States, an intellectual and social collective catering to Philadelphia's genteel, politically minded elite (Martinez 144). In 1880, the Peirces appear in Upper Providence, Delaware County. Charlotte, 50, is "Keeping House," as is Gertrude, 21. Arthur, 17, works as a machinist. Three individuals employed as servants also dwell in the household.

In 1888, Charlotte is named as one of the vice presidents of the Pennsylvania Woman Suffrage Association (PWSA), within a newspaper report describing the organization's state-level legislative agenda ("They Would"). In addition to her local activism, she would become a fixture at national meetings of the Association for the Advancement of Women (AAW), then headed by Julia Ward Howe. According to AAW conference reports, Charlotte attended the 1887 national conference in New York; the 1888 national conference in Detroit; the 1890 national conference in Toronto; the 1891 national conference in Grand Rapids, Michigan; and the 1894 national conference in Knoxville, and she held various executive positions as auditor, director, and vice president at each (AAW 3, 3, 3, 3, "Begun"). In Detroit in 1888, her daughter Gertrude serves as the conference's secretary. Charlotte completed these excursions at a time when transcontinental travel could only have been expensive and arduous, even for a person of means.
After the rapprochement that took place between the AWSA and NWSA in the late 1880s, Charlotte participated in the organization that formed through their re-consolidation, the National American Woman Suffrage Association (NAWSA). She was featured at the 1898 NAWSA national conference, held in Washington, D.C., which was promoted explicitly as a 50th anniversary celebration of Seneca Falls. This was the first recorded occasion in which Charlotte begin to enjoy some public notoriety and cache as a surviving Declaration signer. The conference proceedings record that "Of those in attendance at the Seneca Falls Convention two were present, Mary S. Anthony and Charlotte L. Pierce [sic], both of whom Miss Anthony presented to the audience from the platform"—meaning that NAWSA President Susan B. Anthony gave the two Convention veterans a special introduction (22). The 1899 NAWSA national conference was held in Grand Rapids, Michigan, and The Philadelphia Inquirer reports that Charlotte would be among the "number of very distinguished women" representing the Pennsylvania delegation there ("Woman's Club").
An 1890 Philadelphia city directory situates the Peirces' home in the suburb of Media (1459). In 1895, Charlotte and Newlin purchased a home in Philadelphia's Powelton neighborhood ("Powelton," "Powelton's Suffragettes"). Now in their 70s, they appear in the 1900 census for Philadelphia, with Charlotte given the erroneous name of "Elizabeth."

Cyrus Newlin Peirce passed away on May 16, 1909, at age 90. An extended obituary in the 1909 Dental Scrap Book states that he had endured three months of illness and died of a "General Breakdown." For his contributions to the field of dentistry, it adds that "he was vitally interested in the question of giving men and women the same opportunities for education and in everyday affairs" (8). A short obituary in The Inquirer announces that he will be cremated and asks "that no flowers be sent" ("Peirce").

By the 1910 census, Gertrude and her husband Francis have moved in with Charlotte at the Powelton address, bringing with them two grandchildren, Charlotte and John. Now head-of-household, Charlotte makes it clear that she lives on her "Own income."

Widowed and now in her 80s, Charlotte Woodward witnessed the Suffrage Movement undergo yet another sea change in the 1910s. At this time, American suffragists abandoned the general strategy of formulating principled, well-reasoned arguments on behalf of franchise. They adopted a new approach that embraced public demonstration, media coverage, and carnival-esque spectacle. Not one to be sidelined, Signer #37, now something of celebrity within the movement, actively took part in the new set of tactics. To this point, she helped to marshal the 1915 "Festival of Light" parade in Philadelphia. The event entailed a motorcade procession of more than 50 cars, with Charlotte occupying one of the three lead cars alongside other "suffrage pioneers." They were accompanied by "The Woman's Liberty Bell," a feminist counterpart to Philadelphia's Liberty Bell. The Bell had recently completed a publicity tour around the commonwealth with "its clapper tied to symbolize the voiceless condition of women" ("Bell," "Suffragists").
In 1916, Charlotte was interviewed for a newspaper article given the somewhat-lurid title "'Panties' Excite Little Comment Now, Says M'Liss." The author defines "panties," which "as everybody knows by this time, consists of a short skirt with sensible cloth trousers underneath to obviate cumbersome petticoat," worn primarily for ice skating. The author notices that wearing this article of clothing would have been unthinkable just a few years ago, and it nowadays attracts little comment or unwanted attention. This observation gives the article-writer pause to look back on the history of women's dress reform and call upon Charlotte for her experiences working for Amelia Bloomer. In regards to the once-profane bloomer, Charlotte is quoted as saying, "It took courage in those days to be a suffragist…and you can imagine how much more it took to wear bloomers. Those women suffered a martyrdom…Boys and men did not confine their expression of disapproval to hoots and cries, but they threw stones at them, chased them when they appeared on the streets and sometimes it looked as though they might do them bodily harm." She also reflects on the early suffrage activism in Philadelphia decades prior, remembering "every Sunday…we would take turns in meeting at each other's house for dinner. Those were the original suffrage meetings in this city…Converts were made. Methods for furthering the cause were discussed" ("Panties"). The article clearly attempts to cater its content to a younger, fashion-chic audience and, in doing so, touches upon the topics of sexuality and dress. It is part of a clear tonal shift away from the more-restrained, staid media strategy practiced in the past.
As the 19th Amendment neared realization by the close of the decade, Charlotte Woodward continued her advocacy efforts. After the Pennsylvania Legislature ratified the Amendment in June 1919—the seventh state to do so—Charlotte drafted a congratulatory letter to Governor William Sproul. "Will you accept the congratulations of an old woman who has been a life-long worker for equal suffrage upon your privilege of being in office at a time which witnesses the completion of this movement in Pennsylvania?" it reads, "As a girl of eighteen I attended the early meeting held in Seneca Falls, N.Y. in 1848, and it is a great gratification to see the day when this bill comes before you and the great end is attained!" (Woman Citizen 46).
In the 1920 census for Powelton, Charlotte, now 89, lives with her daughter, son-in-law, and two grandchildren:

On Tuesday, November 2, of that year—26,402 days later—the question of whether Charlotte Woodward actually voted remains unanswered. Caroline Katzenstein reported that Charlotte swore, "'I'll vote if I have to be carried to the polls'" and that, as the "last survivor of the Seneca Falls Convention" she, in fact, "lived to cast a vote" (21, 20). Judith Wellman contrarily claims that Charlotte was ill on election day 1920 and did not vote. She would be completely homebound by 1921, to the extent that she possibly never voted in any election ("Charlotte Woodward"). In Lifting the Curtain, Charlotte is pictured in a 1922 photo with Katzenstein wielding a trowel that would be sent to Washington to lay to the cornerstone for the National Women's Party (16).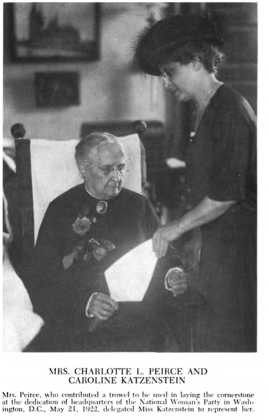 Charlotte Lundy Woodward Peirce died on March 15, 1924, with her death certificate identifying "old age" and "atherosclerosis" as cause. An obituary ran in The Inquirer on the following Sunday acknowledges she was "one of the delegates of the first suffragist conventions held in New York in 1849 [sic], and was its last survivor." She is survived by Gertrude and "four grandchildren, Mrs. Edward C. Boynton, Rutland, Vermont; Miss Charlotte Easby and John P. Easby, of this city, and Mrs. Murry C. Horwood, of Boston" ("Mrs. Charlotte L. Peirce"). Like Newlin, she was to be cremated, and records suggest that her place of cremation was Chelten Hills Cemetery, then the Philadelphia Crematorium ("Peirce"). I could find no physical markers for Signer #37's place of interment at Chelten Hills, but this merits follow-up investigation ("Charlotte L. Peirce").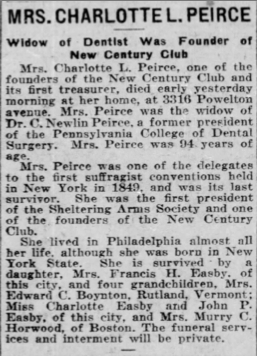 As for Charlotte's two children who survived to adulthood, Gertrude followed in her mother's footsteps and maintained affiliations within NAWSA and AAW. In 1876, Gertrude was part of a cohort of three female students to attend courses at the University of Pennsylvania, the first women to do so at that institution. Gertrude specialized in chemistry at UPenn and, after concluding her studies, co-authored a scholarly paper with a professor (Mallon & Sama 6-9). She married Francis Easby, a Penn-educated engineer, at Philadelphia's First Unitarian Church in 1884. After Newlin's death, the Easbys moved in with Charlotte in her Powelton home. Gertrude would pass away in Langhorne, Bucks County, on October 8, 1953, dying at the same age as her mother. The 1900 census implies that Charlotte's son Arthur was still alive by that year, but her 1924 obituary does not claim him as a survivor. I was unable to find concrete records of Arthur's whereabouts in adulthood. A brief biography of Charlotte on Findagrave.com indicates that he moved to Chicago and died in 1905.
I was able to find this portrait of Gertrude: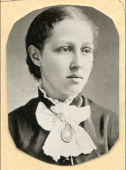 American culture had changed in radical ways during the 72-year wait, from the Seneca Falls Convention to the passage of the 19th Amendment. This was time Charlotte and other suffragists spent advocating for the right to vote and working to usher in broader cultural changes. Signer #37 did not wait for the world to get better. She worked locally and nationally to play a role in cultivating that change. Of the 100 signers of the Declaration of Sentiments, only Charlotte Woodward lived to see that long course of labor come to fruition.
Works Cited
"1908 Convention." Western Woman, vol. 1 no. 8, 11 July 1907, p. 12.
"3316 Powelton Avenue." Powelton Village, http://old.poweltonvillage.org/interactivemap/files/3316powelton.htm. Accessed 25 June 2021.
Association for the Advancement of Women. Souvenir Nineteenth Annual Congress of the Association for the Advancement of Women Invited & Entertained by the Ladies' Literary Club. 1887.
---. Report of the Association for the Advancement of Women, 15th Women's Congress. 1888.
---. Report of the Association for the Advancement of Women, 16th Women's Congress. 1889.
---. Report of the Association for the Advancement of Women, 18th Women's Congress. 1891.
---. Report of the Association for the Advancement of Women, 19th Women's Congress. 1892.
"Begun The Work." The Journal and Tribune (Knoxville, TN), 1 Nov. 1894, p. 1.
"Bell Will Lead Suffrage Parade." Philadelphia Inquirer, 22 Oct. 1915, p. 2.
"Caught on the Fly." Philadelphia Inquirer, 1 Apr. 1897, p. 6.
"Charlotte Peirce Household." Federal Census 1910, Philadelphia, Pennsylvania. Ancestry.com. Accessed 22 June 2021.
"Charlotte Lundey Peirce—Death Certificate." Philadelphia, Pennsylvania, 15 Mar. 1924. Ancestry.com, 22 June 2021.
"Charlotte L. Peirce." Findagrave.com, https://www.findagrave.com/memorial/212849745/ charlotte-lundley-peirce. Accessed 22 June 2021.
"City Bulletin." Daily Evening Bulletin, 28 May 1868, p. 3.
"The City Trust, Safe Deposit and Surety Company." Philadelphia Inquirer, 15 Jan. 1892, p. 8.
"Cyrus Newlin Peirce Household." Federal Census 1860. Philadelphia, Pennsylvania. Ancestry.com. Accessed 22 June 2021.
"Cyrus Newlin Peirce Household." Federal Census 1870. Bristol, Pennsylvania. Ancestry.com. Accessed 22 June 2021.
"Cyrus Newlin Peirce Household." Federal Census 1880. Upper Providence, Pennsylvania. Ancestry.com. Accessed 22 June 2021.
"Cyrus Newlin Peirce Household." Federal Census 1900. Philadelphia, Pennsylvania. Ancestry.com. Accessed 22 June 2021.
"Cyrus Newlin Peirce Household." Federal Census 1900. Philadelphia, Pennsylvania. Ancestry.com. Accessed 22 June 2021.
The Dental Scrap Book. Dental Scrap Book Independent, 1909.
Dorr, Rheta Childe. "The Eternal Question." Colliers, The National Weekly, 30 Oct. 1920, pp. 5-6, 23-24.
Ewbank, Douglas. "Powelton's Suffragettes." Powelton History Blog, 20 Jan. 2014. https://poweltonhistoryblog.blogspot.com/2014/01/poweltons-suffragettes.html. Accessed 22 June 2021.
"A Festival." The Press, 4 Nov. 1867, p. 2.
"Francis Easby Household." Federal Census, 1920. Philadelphia, Pennsylvania. Ancestry.com Accessed 22 June 2021.
"Gertrude Klein Peirce-Francis Easby Marriage." Philadelphia, Pennsylvania, 24 Jan. 1884. Ancestry.com. Accessed 25 June 2021.
"Gertrude Klein Easby—Death Certificate." Langhorne, Bucks County, 1953. Ancestry.com. Accessed 25 June 2021.
Gopsill's Philadelphia City Directory for 1890. Gopsill, 1890.
History of Woman Suffrage. Vol. 3. Susan B. Anthony, 1886.
Katzenstein, Caroline. Lifting the Curtain: The State and National Woman Suffrage Campaigns in Pennsylvania as I Saw Them. 1955.
Leonard, John William, and Albert Nelson Marquis. Who's Who in America. A.N. Marquis, 1908.
"Lucretia Mott letter to Martha Mott Lord; Charlotte L. Peirce letter to Lucretia Mott." In Her Own Right, http://inherownright.org/records/oai-tricontentdm-brynmawr-edu-inhor-95907. Accessed 24 June 2021.
Mallon, Linda, and Anita Sama. Franklin's Daughters: Profiles of Penn Women. University of Pennsylvania Press, 2002.
Martinez, Katharine. Philadelphia's Cultural Landscape: The Sartain Family Legacy. Temple University Press, 2000.
Morris, Charles. Men of the Century, an Historical Work: Giving Portraits and Sketches of Eminent Citizens of the United States. I. R. Hamersly & Company, 1896.
"Moses Chapman Household." Federal Census, 1850. DeWitt, New York. Ancestry.com, Accessed 22 June 2021.
"Mrs. Charlotte L. Peirce." The Inquirer, 16 Mar. 1924, p. 17.
National American Woman Suffrage Association. Proceedings of the Thirtieth Annual Convention of the National American Woman Suffrage Association: And the Celebration of the Fiftieth Anniversary of the First Woman's Rights Convention. NAWSA, 1898.
"News Summary." The Evening Telegraph, 23 Dec. 1869, p. 3.
"'Panties' Excite Little Comment Now, Says M'Liss." Evening Public Ledger, 3 Jan. 1916, p. 8.
"Peirce." The Press, 11 Feb. 1870, p. 5.
"Peirce." Philadelphia Inquirer, 19 May 1909, p. 7.
"Peirce." Philadelphia Inquirer, 17 Mar. 1924, p. 8.
Peitzman, Steven Jay. A New and Untried Course: Woman's Medical College and Medical College of Pennsylvania, 1850-1998. Rutgers University Press, 2000.
Philadelphia Society for Organizing Charitable Relief and Repressing Mendicancy. Manual for Visitors Among the Poor: With a Classified and Descriptive Directory to the Charitable and Beneficent Institutions of Philadelphia. 1879.
Report of the Woman's Rights Convention, Held at Seneca Falls, N.Y., July 19th and 20th, 1848. John Dick, 1848.
"Suffragists Greet Their Liberty Bell." Evening Public Ledger, 22 Oct. 1914, p. 3.
"They Would Like to Vote." Philadelphia Inquirer, 27 Dec. 1888, p. 2.
Wellman, Judith. "Charlotte Woodward." Women's Rights National Historic Park. https://www.nps.gov/wori/learn/historyculture/charlotte-woodward.htm. Accessed 22 June 2021.
"William Woodward—Probate Letter." Auburn, New York, 1857. New York, Wills and Probate Records, 1659-1999. Ancestry.com. Accessed 22 June 2021.
The Woman Citizen. Leslie Woman Suffrage Commission, 1919.
"Woman's Club Work." Philadelphia Inquirer, 19 Mar. 1899, p. 1.
"Woman's Hospital." The Press, 21 Jan. 1876, p. 6.
Woman's Medical College of Pennsylvania. Twentieth Annual Announcement of the Woman's Medical College of Pennsylvania, For the Session of 1869-70. Loag, 1869.